Disposables 3 for £30
HAYATI PRO MAX 4000 DISPOSABLE VAPE
£10.99
ELFA PRO POD KITS & PREFILLED PODS IN STOCK!
Other variations
Description
The Hayati Pro Max 4000 disposable vape boasts 48 unique flavours, there's something to satisfy all of your cravings. Manufactured by Hayati and equipped with a dual 1.2 ohm mesh coil and a super-efficient 1500 mAh battery means the quality and enjoyment provided by the Hayati Crystal disposable vape range is unrivaled; don't miss out on this one-of-a-kind vaping experience. The Hayati Pro Max 4000 is literally a rebranded Crystal Pro Max 4000. Therefore, quality and satisfaction is sure to be there!
Key Features
---
Flavoured nicotine salt e-liquid
Draw activated
Ideal for both new and seasoned vapers
Dual 1.1 Ohm Mesh Coil
Up to 4000 puffs
1500 mAh battery
LED light at the bottom
Crystal appearance
Not rechargeable
Fancy a Deal?
---
Delivery Options
---
Free Delivery on all orders over £30
Royal Mail Tracked 48
Royal Mail Tracked 24
Royal Mail Next Day Guaranteed
Royal Mail International Tracked
Package Contains
1 x Hayati Crystal Pro Max 4000 Disposable Device
More about the
Hayati

Pro Max

4000
Disposable Vape
The Hayati Pro Max 4000 is an advanced disposable vaping device that promises you up to 4000 puffs for a memorable vaping experience, due to its pre-installed 1500 mAh battery. This packed battery and a dual 1.1 ohm mesh coil ensures exceptional and consistent flavour delivery with satisfying throat hits with each draw.
A dual 1.1 ohm mesh coil ensures brilliant flavour delivery combined with consistently satisfying throat hits with each draw.
Whether you're seeking exotic fruits or desserts or simply a burst of berries in your e-cigarette flavours, the Hayati Pro Max has a flavour guaranteed to tantalise and captivate your taste buds! There are currently 48 mouth-watering flavours in the Hayati Pro Max range, although this could further increase due to Hayati's constant upgrades to the flavour range!
A massive range! 48 unique and tantalising flavours to choose from!
Featuring draw-activated power and 20mg nic salt e-liquid, this striking disposable device promises intense flavour with a smooth throat hit with every puff. The device itself gives off a very striking and appealing appearance, mainly due to it's crystal exterior. It's not too bulky either, which means carrying the device in your pocket is seamless.
As you can see, Hayati delivers top-level performance!
Whether you're new to vaping or an experienced vaper, don't miss out on what the Hayati Pro Max has to offer. Try it today and be amazed by its unique flavourful sensations – we guarantee that you won't regret it! If you're looking for absolute smooth and pure taste, and uncompromising performance, then the Hayati Pro Max is for you!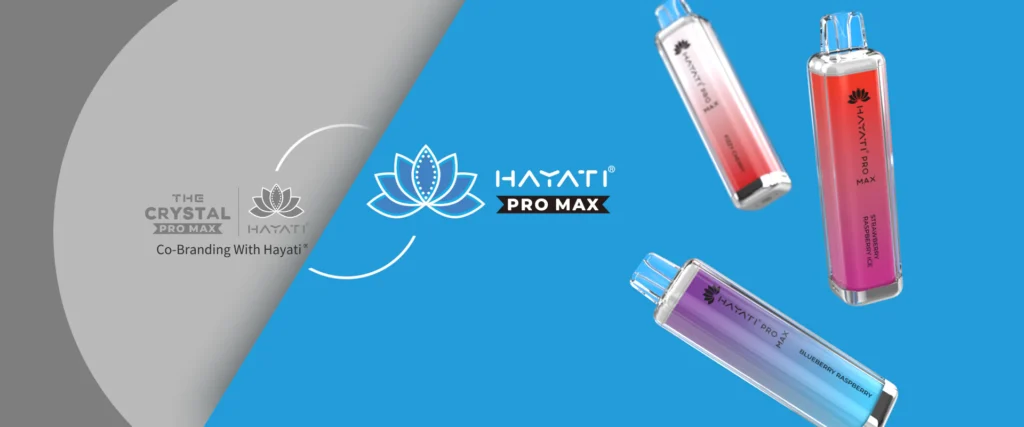 Hayati
Pro Max Flavours
At VapeHub, we offer a huge selection of disposable vape devices and kits. Within the Hayati Pro Max range, there is a huge selection of fantastic flavours to choose from:
Atomic Fireballs
Banana Ice
Blackcurrant Mango
Blue Fusion
Blue Razz Cherry
Blue Razz Gummy Bear
Blue Razz Lemonade
Blue Sour Raspberry
Blueberry Cherry Cranberry
Blueberry Raspberry
Bru Ice
Bubblegum Ice
Bull Ice
Cherry Cola
Cola Lime
Cream Tobacco
Fizzy Cherry
Fresh Menthol Mojito
Fresh Mint
Gummy Bear
Hubba Bubba
Juicy Peach
Lemon Lime
Mad Blue
Mango Peach Pineapple
Mr Blue
Mr Pink
Pineapple Ice
Prime Strawberry Watermelon
Red Apple Ice
Riberry Lemonade
Rocky Candy Orange
Sakura Grape
Strawberry Mojito
Strawberry Raspberry Ice
Triple Mango
Vimbull Ice
Watermelon Ice
Watermelon Lemon Burst
FAQs
What flavours from Hayati Pro Max 4000 would you recommend?
Can't go wrong with the classic hits such as Watermelon Ice and Blueberry Raspberry, although the Strawberry Raspberry Cherry Ice is a sure modern hit!
Is the Hayati Pro Max refillable?
No. The Crystal Max Pro is a disposable vape so when fully used up, simply dispose of it and open a new one. This makes your vaping experience much easier and more convenient!
Is the Hayati Max Pro 4000 rechargeable?
No. Enjoy without worrying about recharging or replacing coils. It's that simple!
Is the Hayati Max Pro actually 4000 puffs?
Depends on certain factors such as length/force of each draw. Therefore probably not in the real world. Up to 4000 puffs would be a sensible way to looking at things!
Are the Hayati Pro Max Vape flavours any good?
Yes absolutely! With over 25 flavours available there is not one flavour from the Crystal Pro Max range that will disappoint.
Are the new flavours in the Hayati Pro Max 4000 range any good?
Yes! All new flavours from the Hayati Crystal Pro Max 4000 range are extremely good and very popular amongst the Crystal Pro Max vapers.
Product Specifications
Flavour
Banana Ice, Berry Lemonade, Blackcurrant Mango, Blue Fusion, Blue Razz Cherry, Blue Razz Lemonade, Blue Sour Raspberry, Blueberry Cherry Cranberry, Blueberry Raspberry, Cherry Cola, Cola Lime, Cream Tobacco, Double Menthol, Fizzy Cherry, Fresh Menthol Mojito, Fresh mint, Gummy Bear, Juicy Peach, Lemon Lime, Mad Blue, Mr Blue, Mr Pink, NEW – Atomic Fireballs, NEW – Blue Razz Gummy Bear, NEW – Bru Ice, NEW – Bubblegum Ice, NEW – Bull Ice, NEW – Hubba Bubba, NEW – Mango Peach Pineapple, NEW – Mogu Mogu Lychee, NEW – Mogu Mogu Melon, NEW – Pineapple Ice, NEW – Riberry Lemonade, NEW – Rocky Candy Orange, NEW – Watermelon Lemon Burst, Pink Lemonade, Prime Ice Pop, Prime Strawberry Watermelon, Rainbow (Previously Skittles), Red Apple Ice, Sakura Grape, Strawberry Kiwi, Strawberry Mojito, Strawberry Raspberry Ice, Summer Dream, Triple Mango, Vimbull Ice, Watermelon Ice
Most popular products